Since the announcement was made to postpone IR35 in the private sector until April 2021, a significant number of contractors will choose to close their Limited Companies and turn to Umbrella Companies.
You may be wondering why and what the benefits of using an umbrella company are, well you are in the right place, we have come up with the top 10 benefits! Let's get started! 😊
A quick and convenient registration process
The registration with an Umbrella Company couldn't be easier. With nearly all Umbrella Companies, you will be able to sign up within minutes and start your contract.
It would be quite hard to make it as simple as that. Once you registered with your Umbrella, make sure you let your recruitment agency or end client know. After all; the umbrella company you have chosen is where they will have to send your salary to. Most of the time, the Umbrella Company will contact them to let them know, but it's good practice to cover all bases.
There are just a few documents to provide to make sure your first salary will be without any unpleasant surprises. We cover this in our post: 4 easy steps to register with an Umbrella Company in 2021
Bottom line for this point: getting paid through an Umbrella Company is quick and easy.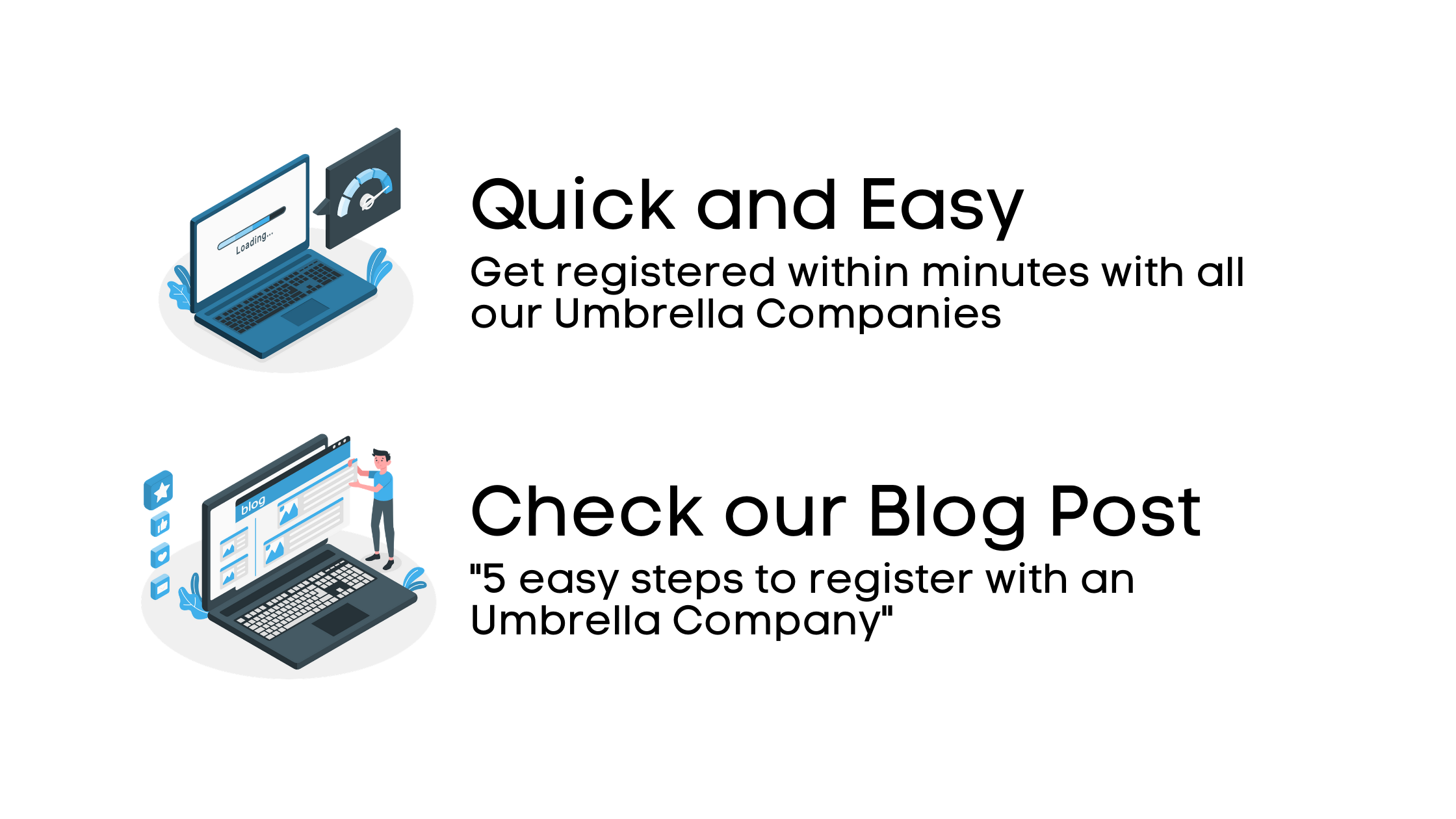 No Commitment and very flexible
As a contractor, you will realise that using an Umbrella Company is very flexible.
You are not tied up to an Umbrella Company in any way. Using the same Umbrella Company and therefore the same employer is strongly advised because it will open employee benefits for you and may help you secure a loan and a mortgage (see next point)
Of course, if you find yourself working with an Umbrella Company that you are not happy with in terms of their services or you find out they might not be compliant, you could swap to another Umbrella Company the following week.
It is how most of the Umbrella Companies work, but we recommend you check the clauses about contract termination before signing.
The Umbrella will adapt to your workflow, so if you have a break for a few weeks, your Umbrella will continue as usual when you are back. As we said: Simple 🙂
Continuous employment record and getting loans/mortgages
Let's start with: What do we mean by continuous employment? We are glad you asked!
"Continuous employment is when an employee has worked for one employer without a break."
— Source: HMRC
Firstly, let's be clear: We are not saying it is impossible to secure a loan or mortgage when you are self-employed. It might just need a little more work. It is true though that a new job can cause concern for some lenders.
The fact that the Umbrella Company is your employer means you maintain a continuous employment record. Even if you get a new job with a different recruitment agency or work for another end-client, you will be employed by the same employer: Your Umbrella Company. It goes beyond securing a loan or mortgage, though. Maintaining continuous employment will open you to…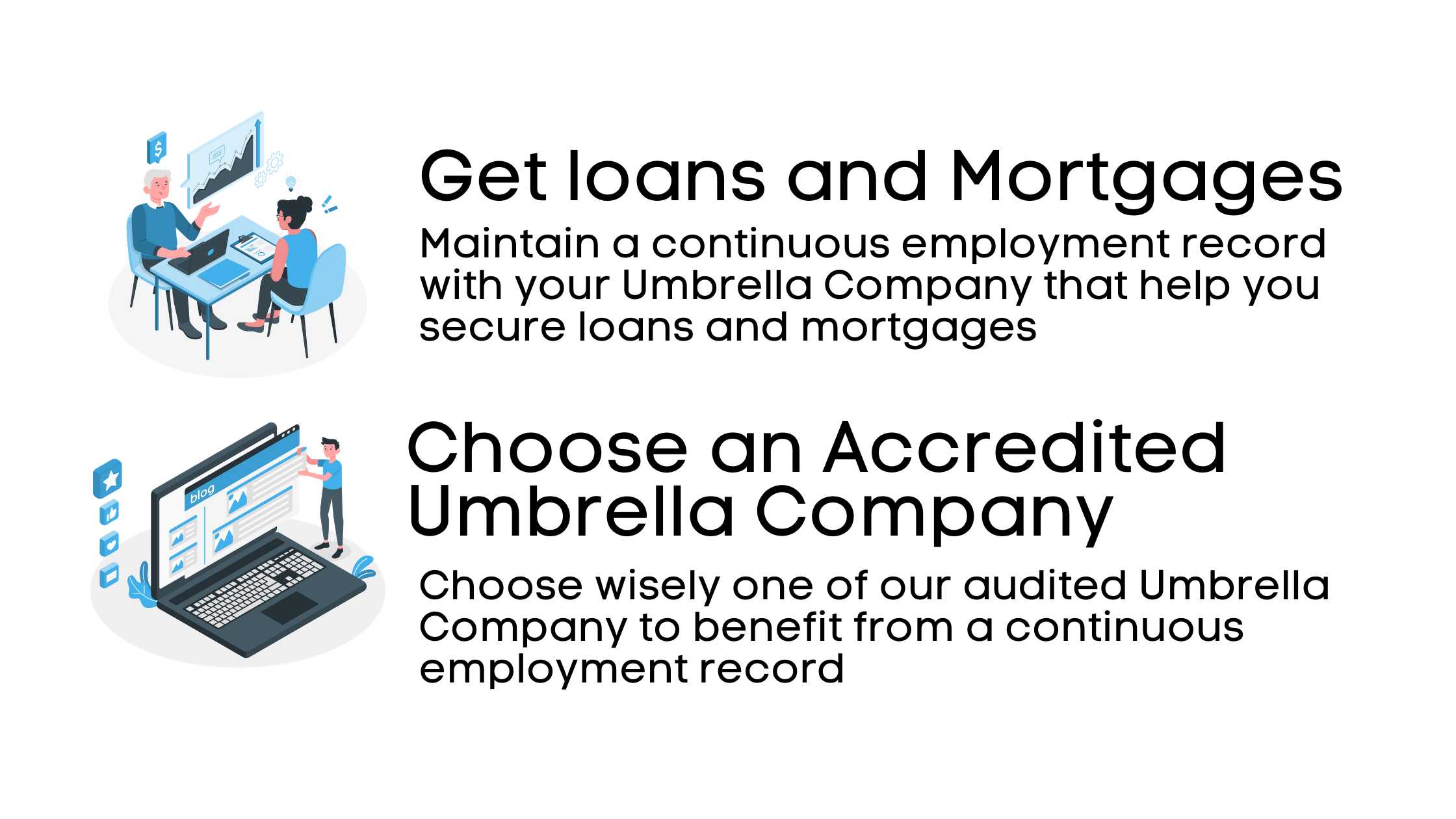 Having the same statutory benefits as a permanent worker
"The length of continuous employment gives certain rights to employees"
— Source: HMRC
When a contractor decides to work through an Umbrella Company and becomes an employee of this Umbrella Company, it opens the same statutory benefits as a permanent worker.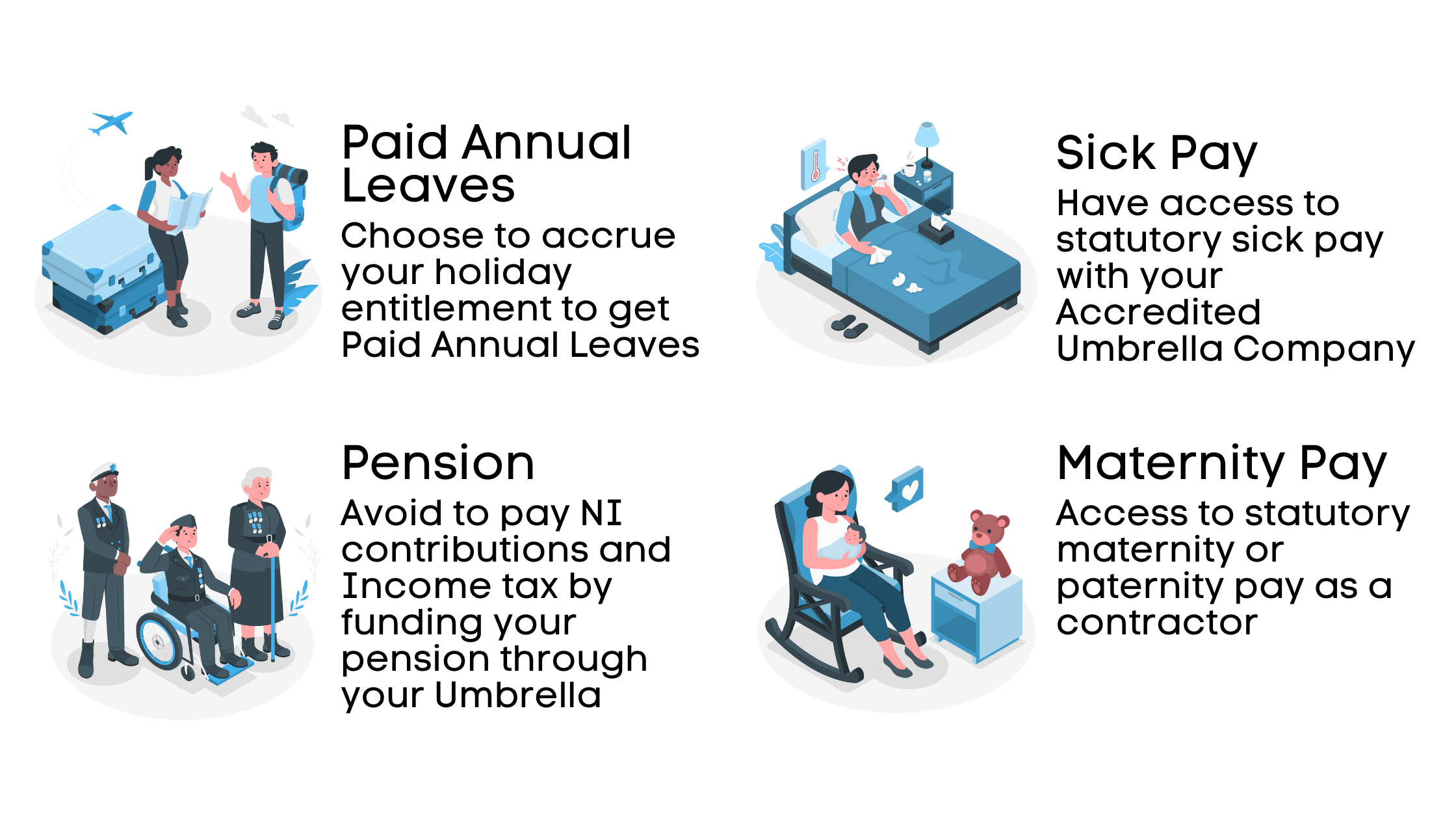 Suitable for any kind of contracting work
Umbrella companies are suitable for any kind of contract and all salary rates. It also works for contractors who secure either a long- or short-term contract.
In a nutshell, the parameters of your contract or assignment don't matter. If you receive an amount of money for your work, you can get paid through an Umbrella Company.
Minimum paperwork: The Umbrella Company calculates all taxes on your behalf
Working through an Umbrella Company is worry-free, and the administration involved is minimal. Each week you only must only submit:
Your Timesheet
Your chargeable expenses
Once you have submitted these documents, well that's it! You are done, and you just need to wait for the Umbrella Company to pay your salary into your bank account!
Claim Tax relief for Allowable Expenses
Can you still claim your allowable expenses as an Umbrella worker?
No, and yes… it depends what you mean by allowable expenses.
Since April 2016, the government changed the "travel and subsistence expenses for workers engaged through "employment intermediaries" (Like Umbrella Companies).
If your agency or umbrella company has gathered evidence that you are not subject to Supervision, Direction or control (SDC): you can. If not your can't!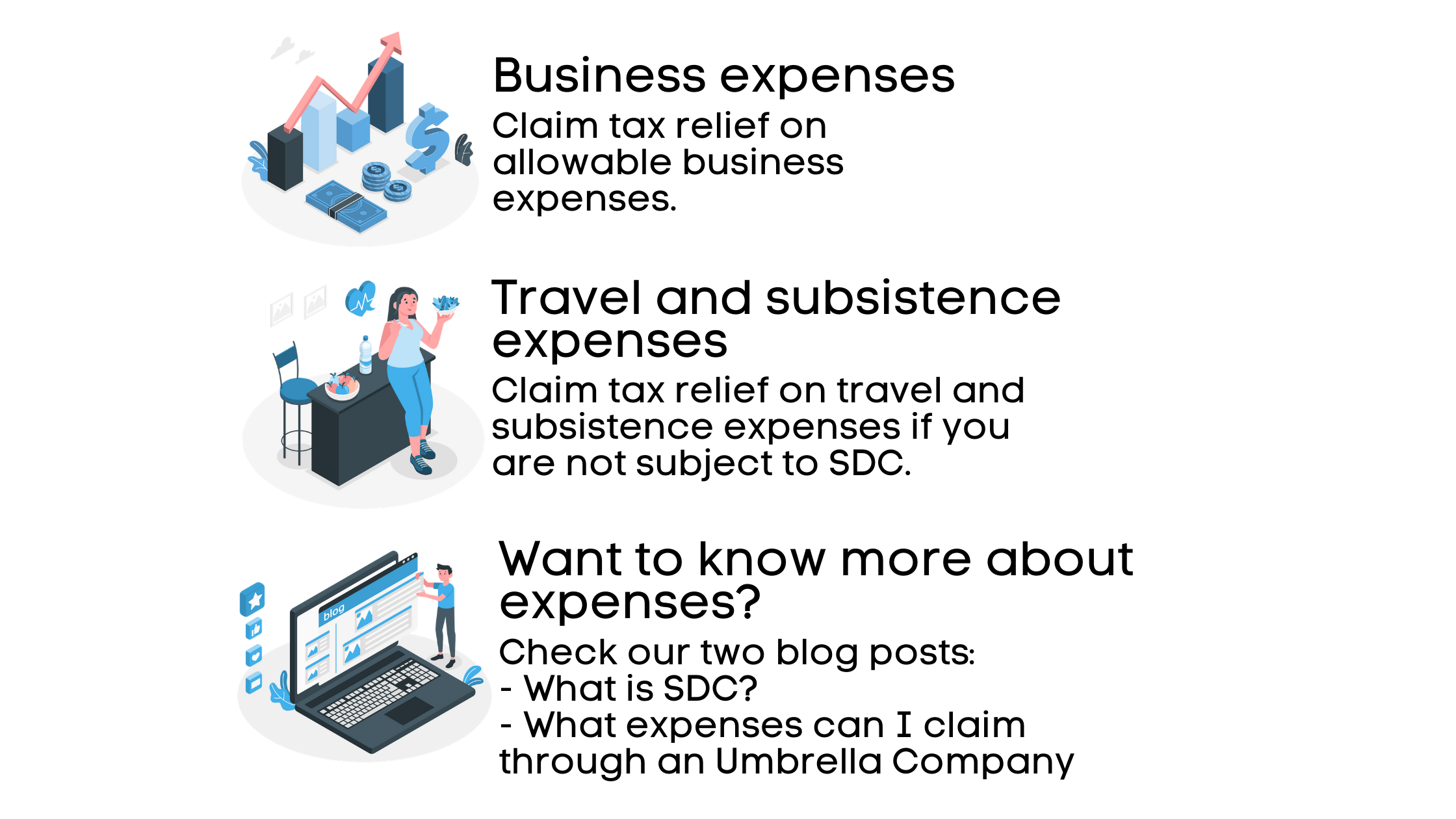 Insurance Cover for free
All our Accredited Umbrella Companies will provide you with three main insurances. If you get you registered with an Umbrella Company directly, make sure they have the following insurances:
Employer Liability Insurance: GOV.UK give a precise definition: "The employer insurance will help you pay compensation if an employee is injured or becomes ill because of the work they do for you." This insurance is mandatory in the UK for all employers." (Source: UK Government Website)

Professional Indemnity Insurance: "PII is a type of insurance that covers your business if a client claims to have suffered a loss as a result of your professional negligence. If a client makes a claim of valid professional negligence, the legal costs (and, if payable, compensation) may be paid, wholly or in part by your insurer." (Source: UK Government Website)

Public Liability Insurance: Public liability insurance (PL) is one of the most popular policies for small businesses, as it covers you for claims made against you by members of the public.
We all know that accidents happen. But suppose you or one of your team accidentally causes injury or property damage to a member of the public. In that case, your business could face hefty legal fees and compensation costs running into the millions. This is where Public Liability insurance is so essential.
It's also worth noting that your clients and suppliers may request you have PL as a condition of working for them. So, it's a critical cover in more ways than one.
Perks/Rewards
Many Umbrella Companies offer perks and reward plans. And some of them are pretty good.
Umbrella companies offer multiple discounts and deals on products such as travel, shopping brands, restaurants, bars, trips, …
All plans are different, and if you are interested in getting these great rewards, you should request a call asap! 🙂
IR35 is not relevant to you
Once you are working through an umbrella company, you are an employee of the Umbrella Company. Therefore, IR35 is not relevant to you.
It is as simple as that.
To be even more explicit: Contractors in the public sector who already worked through compliant Umbrella Companies received the same take-home pay, before and after IR35 (April 2017).
If you already work through an Umbrella company, you will be as affected by IR35 as a permanent worker.
Conclusion
There is no doubt, choosing to work through an Umbrella Company is one of the most straightforward solutions out there when you are a contractor or freelancer.
Moreover, this is the only solution that will provide you with all the advantages of permanent workers as well as the flexibility of the contracting world.