New to contracting or thinking about starting a career as a freelancer? We created a beginner guide for you on what Umbrella Companies are, how they work, and how to safely choose one!
Let's dive into it!
What is an Umbrella Company?
An Umbrella company or PAYE Umbrella is an easy payment solution available to contractors and freelancers to use without having the hassle and complexity of managing a Limited Company.
When you register with an Umbrella Company, you become an employee of the Umbrella Company.
The real positive in that is it opens you to the same rights and advantages as a permanent staff member (Sick leave, maternity leave, paternity leave... See part 2)
What is the purpose of an Umbrella Company?
Their main and principal role is to organise payment for the contractor; taking away most of the administration involved if you had a Limited Company.
In a nutshell, the umbrella company will receive the payment for your timesheet from the End Client or the Recruitment Agency. They then pay any taxes on your behalf to HMRC and send your net earnings directly to your personal bank account (Graph on the right).
This service has a relatively low cost which varies depending on the list of services the Umbrella Company is providing (E.g. Perks, advantages....)
We created Find Your Umbrella... to help you choose 😊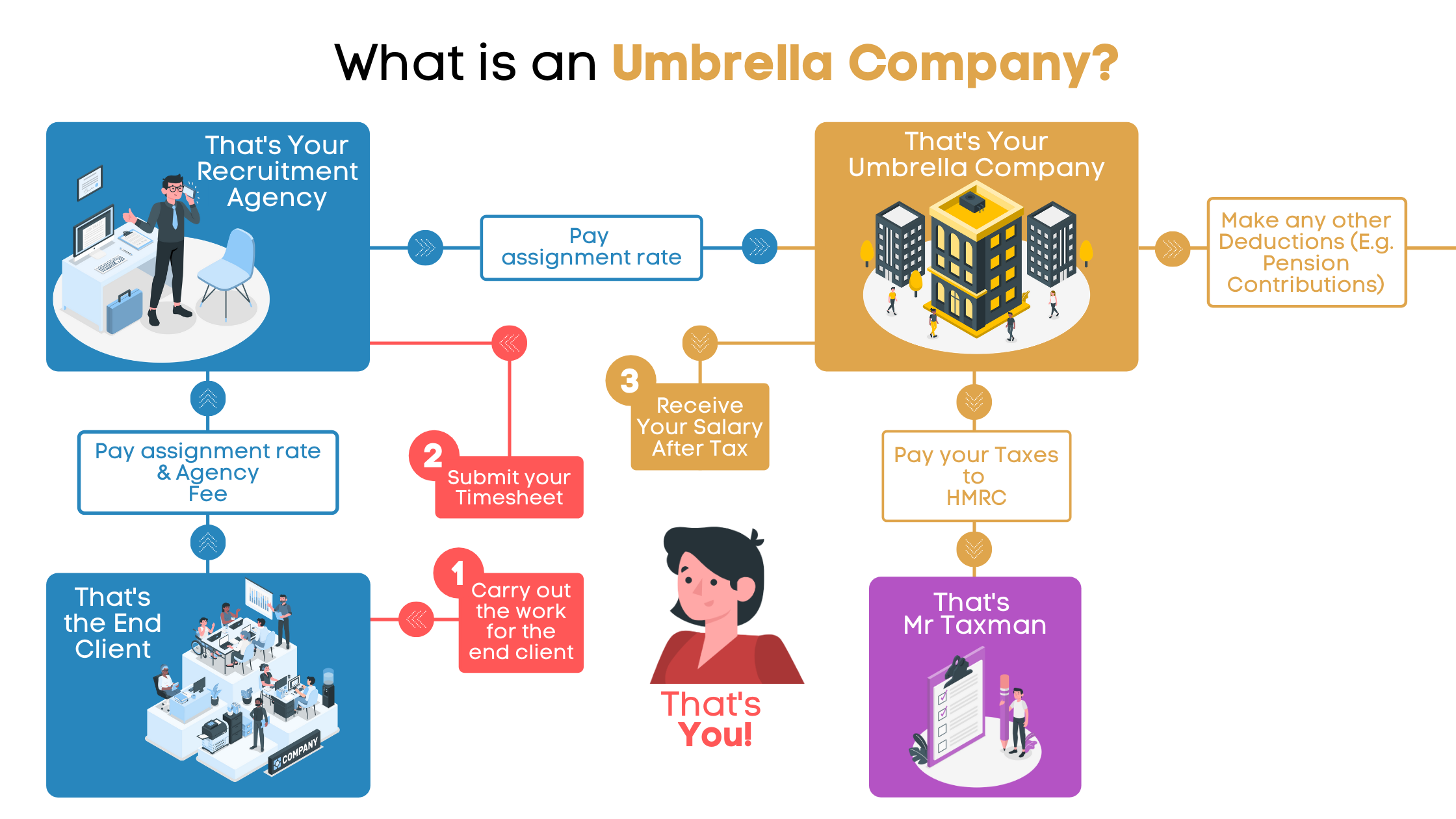 5 Reasons to use an Accredited Umbrella Company
You benefit from a higher rate of pay of being a contractor while having all the advantages and rights that come with being a permanent worker.
You will receive weekly/monthly Payslips to keep track of your earnings.
If you regularly change assignments, the umbrella company will maintain a continuous employment record which will make it easier for you to provide information to financial services such as when obtaining a loan or mortgage with your bank.
Due to your PAYE status by the Umbrella Company you will accrue the following over time:

Pension
Holiday Pay
Statutory sick pay
Maternity and Paternity pay

All taxes are calculated for you, providing you with more time to do what you enjoy outside work. There will be no need to pay an accountant either as the umbrella company takes care of everything on your behalf
Why using an Accredited Umbrella Company?
What is an Accreditation?
Accreditations are awarded to an Umbrella Company that successfully goes through a thorough audit process, where their practices are assessed in line with HMRC regulations. There are several accreditation bodies, and successfully passing their audit is a way for an Umbrella Company to prove they are compliant with HMRC.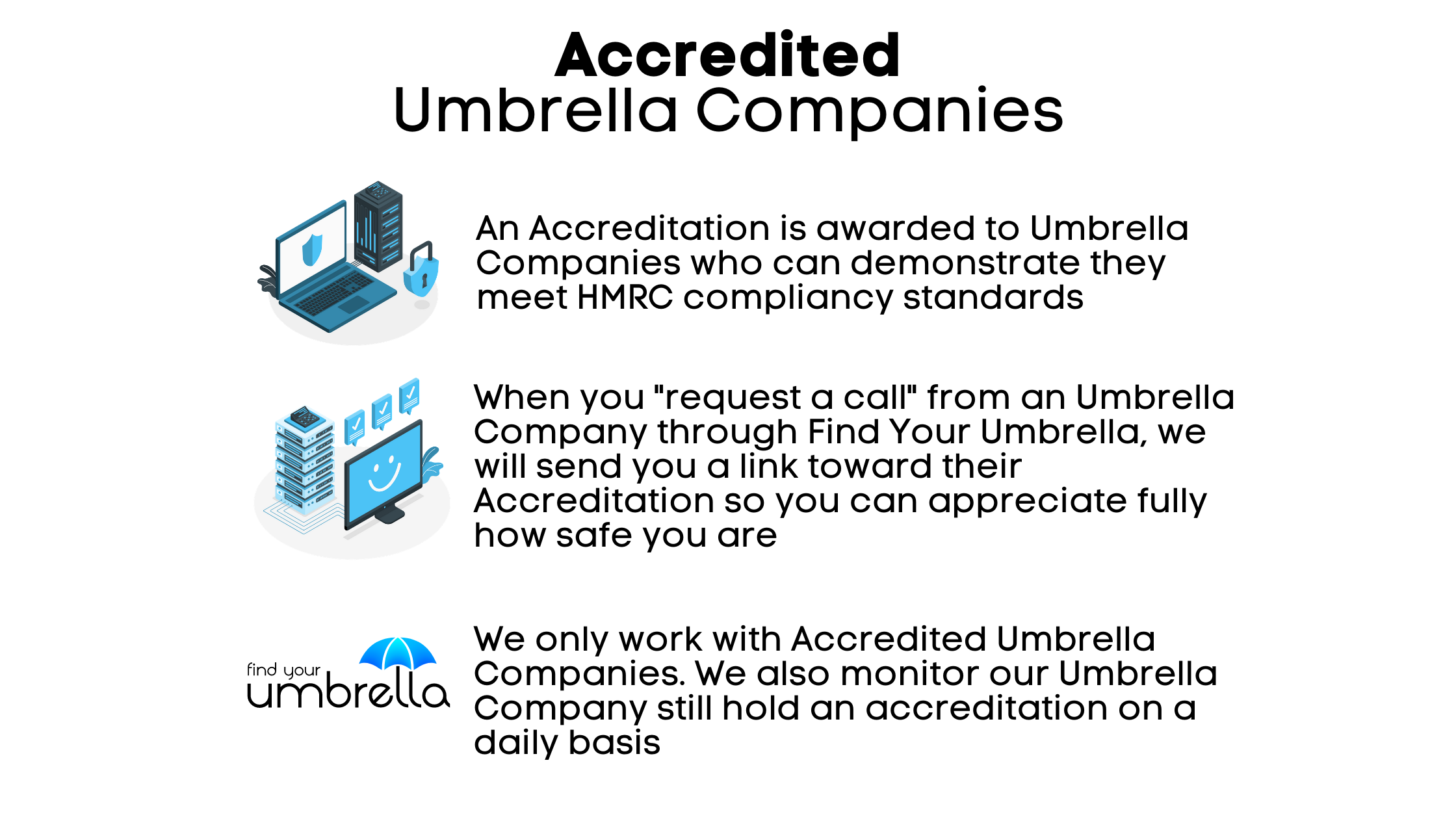 Why accreditations for umbrella companies are so important?
The hard truth is the responsibility of paying the correct tax rests solely on you as a single contractor. HMRC have reiterated this on their website - we are just going to quote it and give you the link:
"If you are involved in an arrangement like this, you are most likely to be avoiding tax, and you could end up paying additional tax, National Insurance contributions and interest. Penalties may also apply. Previous users of avoidance schemes were told that their arrangements were HMRC compliant, but later found out, to their cost, this was incorrect."
— Source: HMRC
The risk for you is a very expensive life-changing bill. Even if you genuinely did not know the umbrella company you used were operating a tax avoidance scheme, you are still accountable.
HMRC Compliant or HMRC Approved?
You might hear Umbrella Companies using certain terminologies such as "HRMC Approved" or "HMRC Compliant". Again, HMRC is extremely clear on their website about these appellations:
"HMRC never authorises the use of statements such as 'HMRC compliant' or 'HMRC approved'"
— Source: HMRC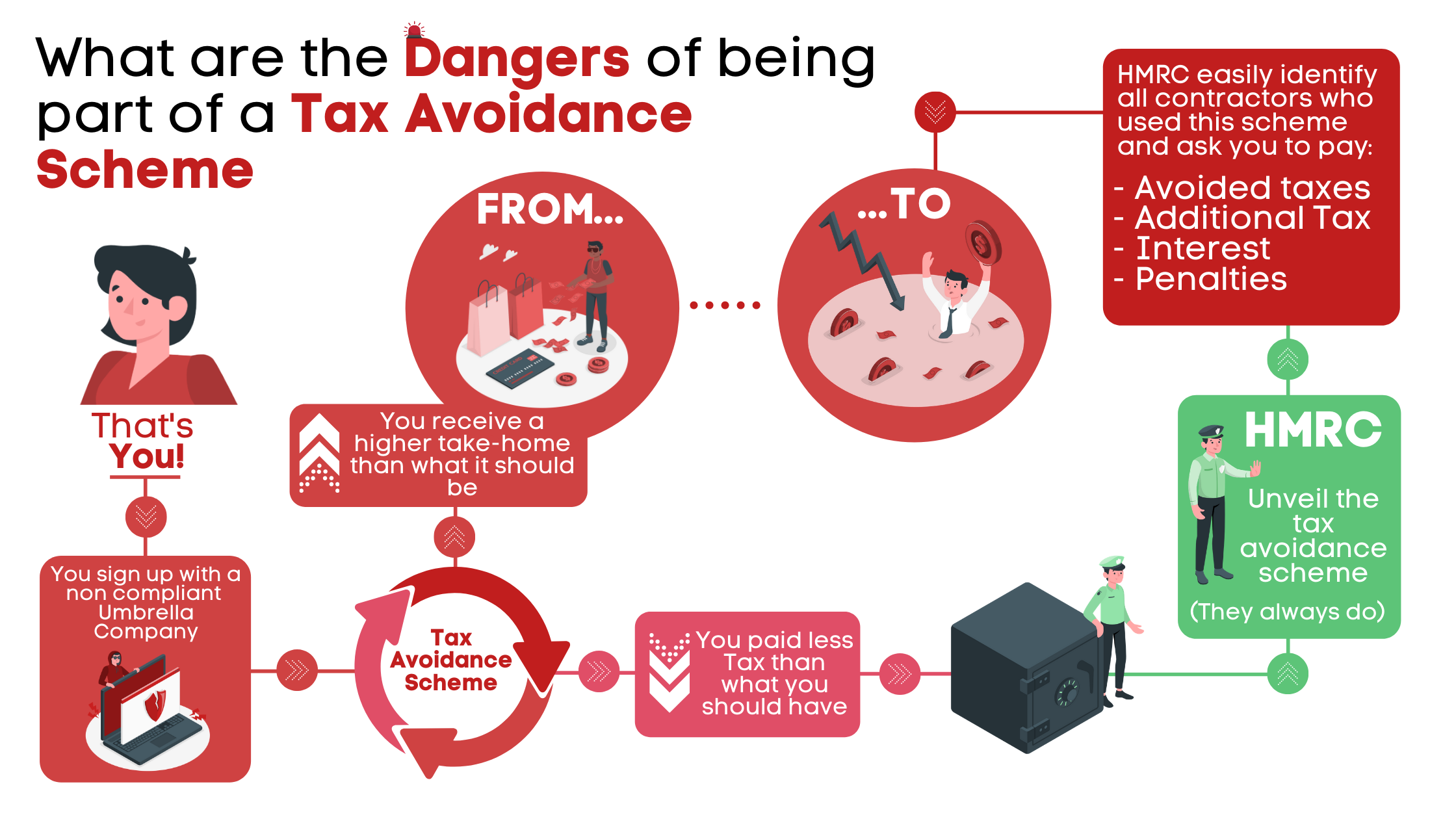 Conclusion
FindYourUmbrella only works with Umbrella Company that currently hold an accreditation. The creation of our platform comes from a strong desire to bring transparency, honesty, and knowledge to all contractors who want to know what Umbrella companies can provide.
We are monitoring on a daily basis the accreditations of our partners. Chose and compare dozens of Accredited Umbrella Companies that match your ethos and provide the services you need.